Here with you every step of the way.
As an employer, broker or third-party administrator, you're focused on continuing to improve service and benefits to your plan members. Here at MaxorPlus, we're ready to partner with you on these same goals – while helping you and your members reduce costs every day. We believe the key to improving your pharmacy benefits is designing a plan that fits your exact needs, and having the flexibility to adjust the plan as your needs change. We also believe in transparency and provide one clear view into all parts of our privately owned organization.
Your plan. Our expertise and solutions.
We work with you and make your goals a reality with our member engagement tools, clinical programs, and formulary options. Our analytics engine identifies opportunities within your data, and we help you determine which clinical programs will help members achieve better health outcomes.
We engage everyone. Member, Clients, and Providers. In order to achieve better outcomes, improve adherence, and grow program participation, all key roles need to be engaged throughout the spectrum of healthcare.
We partner with you. We help you every step of the way with hands on account managers, industry experts, executive sponsorship, and general support. Together, we can do great things.
We get results. Our clinical programs, superior service, and cost saving solutions add up, and we're so confident, we guarantee results.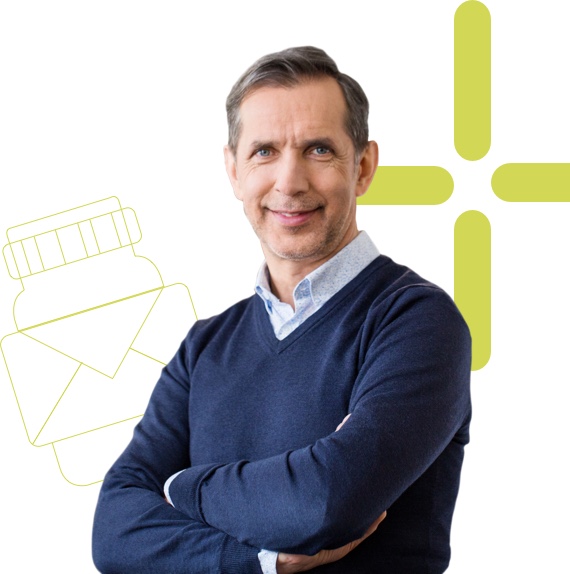 ResponsiveRx™: Bend the trend.
Fix your mix. We created ResponsiveRx™ to help you manage and lower your pharmacy spend through cost savings strategies, clinical interventions, and member engagement without sacrificing the quality of or limiting members' access to their prescription benefits.
High Risk and High Cost Interventions
Identify high risk and high cost utilizations and address using collaborative interventions with prescribers and members.
Maxor Copay Solutions
Lower your specialty costs while tracking actual out-of-pocket spend.
Low Value Drugs
Reduce the use of high cost, low value drugs by shifting to lower-cost alternatives.
Channel and Network Management
Determine the best mix for your plan to contain costs and limit member disruption.
Managed Formulary and Plan Design Tier Changes
Add tiers for non-preferred generics and non-preferred specialty while maximizing savings.
How does it work?
We take your drug utilization data, recommend a set of clinical programs, and utilize our innovative intervention and member engagement tools to lower your pharmacy spend.
Benefits include:
Eliminate low value drugs
Increase member engagement
Implement managed formulary and networks
Identify high risk and high cost opportunities for clinical interventions
The MaxorPlus
difference.
#1 PBM in client satisfaction
Past 2 out of 3 years according to the 2019 PBMI Customer Satisfaction Report
Up to 20% total savings
Up to 20% total savings on annual pharmacy costs
Up to 19% 
improved adherence
Up to 19% improved adherence using our member engagement platform
We're always
ready to talk.
We can continue to help you better serve your members and reduce your pharmacy benefit costs.
Remember – with MaxorPlus, you have a nationwide pharmacy benefit manager at your service with:
Comprehensive client reporting
Access to retail network
Specialty and mail order pharmacy
24/7 customer service
Clinical guidance
Mobile member outreach
Let's talk about your benefits.
1 (800) 687-0707
Not yet a MaxorPlus client?